Automatically Expand Windows Explorer Navigation Pane (left pane)
Of the many things I miss in the Classic Windows View – the Windows Explorer navigation is one of them. In Windows 7, the navigation pane (the leftmost pane), does not have the same folder as the rightmost pane (the details pane). This causes me a lot of grief – as I like to do several things such as 'Create New Folder' etc. from the leftmost pane – and it is a pain to not have it in sync with the details pane.
To make this work the way it did in Classic Windows – all you have to do is select Folder Options (from the Tools Menu) – and then check 'Automatically Expand to current folder' in the Navigation Pane checkboxes.
Step 1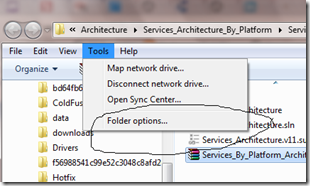 Step 2