Bunkers (greenside bunkers) pose a mortal threat to most amateur golfers. In my case, this was literally true (I once encountered a deadly cobra in a bunker in India). However, getting a ball out of a bunker should not feel like an encounter with a dangerous snake.
The problem with bunkers is that most of modern day instruction about bunker play is MISLEADING. We are asked to hit BEHIND the ball.
I kept trying to do just that. In every shot, I visualized a spot behind the ball and aimed for it.
Except – not only was I inconsistent, I was plagued by various doubts…
How far behind should I aim?
Shouldn't the consistency of the sand grains dictate 'How Far Behind' ?
Why does my stance need to be any different – while standing in a bunker?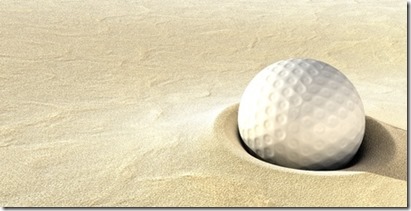 Forget about hitting BEHIND the ball
It wasn't till I gleaned a tip from a book (ala Gary Player, I believe), that I realized that BEHIND the ball was just plain WRONG.
The tip was really simple – visualize a TEE (buried in the sand) – directly below the ball. Visualize the ball sitting on this tee. Now, all you have to do is CHOP (SPLICE) that tee – basically break the tee.
This means hitting UNDER the ball.
One has to hit UNDER the ball. UNDER the ball is not the same as behind the ball.
Even though the club needs to probably enter the sand BEHIND the ball in order to get UNDER, still there is a FUNDAMENTAL difference in trying to hit BEHIND versus trying to hit UNDER!
Once you provide your brain with the visual that the club needs to go UNDER the ball, life (out of a bunker) becomes a lot simpler.
Summary
Modern day instruction on bunker play (out of greenside bunkers) is flawed. Gary Player had it right – aim for a point BELOW the ball – try and splice an imaginary tee below the ball.
Ever since I started splicing that tee, my success rate (and my confidence) in getting out of bunkers has skyrocketed.
Give it a try – and see if it helps your bunker (greenside) play any. This simple tip applies to greenside bunkers.
For fairway bunkers, you want to pick the ball clean – rather than hit below it. This can be best accomplished by PLAYING the ball back in your stance a little bit.
Thoughts? Comments?