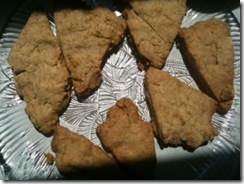 After many attempts at making shortbread cookies (and throwing out a LOT of bad batches), I finally managed to get it right. This is the recipe that did it for me (don't let the bent shapes fool you – I just failed to use a cookie cutter).
This dough was perfect – I believe the ratio of the flour (3 cups) to the butter (2 sticks) is just right. Other recipes seem to have less butter or less sugar etc.
Is there anything better than home-made shortbread cookies? Anything?